About us
Hair Extensions HOTstyle is a company based in the center of Europe.
We offer the highest quality 100% human hair extensions for affordable prices. Our hair extensions are in variety of different colours, lengths and styles.
These extensions are so popular among our customers, because they can transform your entire look within few minutes. We can help you create amazing long hair out of your short hair, change the hair style by adding a new hot bang or make your short hair curly in just few minutes.
We specialize in Clip in hair extensions, which are the safest way to add length, volume, or color without causing damage to your own hair. It is a great alternative to permanent extensions.
We offer also permanent extensions as Nail Tip / U tip hair extension method, Micro Ring / Easy Ring / Easy Loop / Micro Loop hair extension method, Pu extensions / TapeX / Hair talk / Tape in hair extensions all in the highest possible quality and made of 100% natural human hair. Our non permanent hair extensions are easy to use even with no hair styling experience.
We offer FREE international shipping worldwide on all of our products. Customers who are not sure what hair color to choose, they can send us a photo of their own hair. We will provide a professional color matching assistance to ensure the best possible color is chosen for every of our customers.
We do our best to be as customer friendly as possible, trying to put our customers always on first place before anything else.
 If you want the best hair extensions products with uncompromising quality and customer service choose Hair Extensions HOTstyle.
 We are here for you to help you feel great and look HOT with your new hair extensions.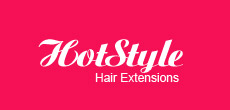 HairExtensionsHOTstyle
Sibirska 55
62100 Brno
Czech Republic
European Union
www: www.hair-extensions-hotstyle.com
email: info@hair-extensions-hotstyle.com 
For customer service, orders or further information
You can use the contact form or directly e-mail us. Our customer support team does it's best to reply all the inquiries as soon as possible.